The Timberwolves SHOULD be Playoff-Bound by Monday-Close
Karl-Anthony Towns #32 of the Minnesota Timberwolves congratulates teammate Jimmy Butler #23 on drawing a found during the game against the Los Angeles Lakers on January 1, 2018 at the Target Center in Minneapolis, Minnesota. (Dec. 31, 2017 - Source: Hannah Foslien/Getty Images North America)
---
---
The start of this particular spring work week signifies the final three days of the NBA's regular season. With the Timberwolves looking to snap the NBA's longest current playoff drought, the final two games of their 2017-18 campaign might prove to be more important than Patrick Reed's final two putts at Augusta.
At about the same time the Masters champion was taking pictures in the Green Jacket, Ricky Rubio and the Jazz were toying around with the Los Angeles Lakers. Utah's 15 point victory over L.A. means that they have officially clinched a postseason birth. While the Spanish PG's new squad joins Houston, Golden State, and Portland as playoff bound teams, five other franchises will fight it out for the remaining four spots.
The way things currently stand, it would take a Matt Damon in Goodwill Hunting type person, to decipher all of the West's seeding scenarios. We'll have plenty of time on Tuesday and Wednesday for that brain-teaser. For now, let's focus on what it will take for the Timberwolves to secure the first postseason spot since 2004:
#Twolves can clinch a playoff spot tomorrow if:

Minnesota defeats Memphis

AND

San Antonio defeats Sacramento (7 @ SA 7:30 pm CT)

AND

Denver loses to Portland (@ DEN 8 pm CT)

— Timberwolves PR (@Twolves_PR) April 8, 2018
That's right, folks. On Monday night, our brutally long wait can finally be laid to rest. Despite coming off like a long-shot parlay, there is a very good chance the three outcomes (laid out in above Tweet) occur exactly as needed.
To start things off with the Wolves, do we all remember the last time they faced Memphis? Two weeks ago, the teams' loss to a Wayne Seldon-lead Grizzlies' squad wasn't pretty was a shit-show.
Thud: Wolves lose 101-93 to a Grizzlies team that had won once since January

— Jerry Zgoda (@JerryZgoda) March 27, 2018
When you combine the importance of tonight's game, with that little bit of revenge factor, indications point to a Minnesota victory. Toss in some other key factors: 1) – the "rematch" will include a man named Jimmy Butler, along with, 2) – Memphis is on the back-end of a back-to-back, Tom Thibodeau's team should win in blowout fashion.
Moving on to Gregg Popovich's team, we'll keep their matchup vs. the Kings short-and-sweet:
– Sacramento is BAD (the Spurs are 13.5 point favorites).
I fully expect that San Antonio will take care of business.
Assuming those two predictions hold, a Portland defeat of Denver equals a playoff berth. With the Trail Blazers losing their last three games, they are (surprisingly) yet to lock up round 1 home-court advantage. Fortunately for Wolves Nation, if Dame Lillard & Co. beat Denver, Portland can bank on Game 1 of Round 1, at home.
For both of these teams, the playoff implications riding on Tonight's game are huge. On that note, ya'll know what time it is: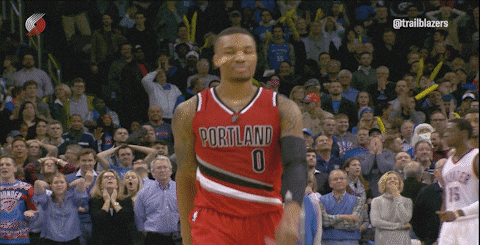 Get it, Damian. Let's go.
If you're asking me,  it's time to get the champagne ready. I fully think that the celebratory bottle popping goes down tonight at Target Center.
In the event things don't go accordingly to plan (my bad), Wednesday's dual vs. Denver will most likely be a win and you're in scenario. Hopefully, it doesn't all come down to the Game 7 type environment, but if it does, all bets are off.
Johnny Minnesota (@TheJohnnyMN)
MinnesotaSportsFan.com