The Minnesota Vikings Your Fantasy Football Team Needs and Where to Draft Them
Photo: Jonathan Bachman-Getty Images
---
Now that it is mid-August, one of the most exciting times of the year is here: Fantasy Football Draft SZN. One of the common dilemmas we as Minnesota fantasy football owners have, is finding the right value for selecting players from the hometown Minnesota Vikings. So, I'm here to help. If you snag your favorite hometown boys in these spots, you're setting your roster up for success!
Dalvin Cook – Mid-First Round
There is no question that Dalvin Cook is one of the best running backs in the league. Last year, he had a career season with over 1,600 yards from scrimmage and 13 touchdowns. When healthy, he has the capability of being one of the top fantasy running backs in the NFL. The key phrase though is "when healthy."
Cook's first three seasons have been plagued with injuries, missing 19 total games across those three seasons. To Cook's credit though, last year was his healthiest season. He only missed two games due to a shoulder injury. The timing was brutal for his fantasy owners. He missed weeks 16 and 17, leaving a bad taste for many.
There were also concerns this summer that Dalvin Cook would hold out, due to his current contract situation. But, it doesn't look like that will be a problem so we won't discuss it.
---
Dalvin Cook said he will "for sure be out there" when they put on pads

— Matthew Coller (@MatthewColler) August 14, 2020
---
Alexander Mattison, in his second year, could take one or two more touches per game from Cook in 2020, but it shouldn't affect his fantasy value overall. I have Cook as my 5th running back off the board for 2020.
Adam Thielen – Early Third Round
The depth at the wide receiver position this year is extremely strong. There is a significant drop-off in running back talent between rounds 3 and 4, which will result in wide receivers flying off the board at that time.
Going into last season, Thielen was known as one of the most durable receivers in the league. Then, he injured his hamstring and only played in 10 games. Even when he did grace the field, he wasn't himself as far as fantasy value is concerned.
Thielen only had 41.3 yards per game with 6 total touchdowns total. That includes the Week 16 game versus Green Bay where Thielen played 50 snaps and did not catch a single pass. He only had 2 games of at least 75 receiving yards.
With Stefon Diggs now in Buffalo after being traded, someone will have to take on those 94 targets. We all know Thielen's potential is off the charts and, if healthy, his production will be there too.
In 2018, the combination of Thielen and Kirk Cousins was one of the best in the league. From weeks 1-9, Thielen ranked as the top wide receiver in all of fantasy football. Pro Football Focus even labeled Thielen as a dark-horse to finish as the #1 receiver in fantasy for 2020.
---
Thielen is a surefire bet to beat his ADP by a landslide. With regression from the defense, a weak supporting cast, favorable strength of schedule and Cousins peppering him with valuable targets, Thielen is a legitimate dark horse candidate to finish as the No. 1 wide receiver overall.

via PFF
---
According to Fantasy Football Calculator, Thielen's ADP is sitting around the early third-round in most draft formats. With Thielen's upside, this is a great value selection.
Alexander Mattison – 8th & 9th Round Turn
Those who drafted Alexander Mattison last year were met with disappointment. As a rookie, the strategy was the same across the fantasy industry, when drafting Mattison. He was a rookie handcuff to Dalvin Cook, with high potential.
Cook did get hurt but it wasn't until the end of the year. Unfortunately, Mattison found himself injured at that same time (ankle sprain), which caused him to miss the final three regular season games, himself. Mike Boone filled in as the starter, when both Cook and Mattison were out.
During the largest chunk of the season, when both Cook and Mattison were available, Cook saw significantly more touches (as he should). In 13 games that both guys played, Mattison averaged just 8.5 touches. As a runner he was efficient, totaling 4.6 yards per carry, but that only amounted to 35.5 rushing yards per game, and one total touchdown that came in week 3.
---
---
Mattison could see one or two additional touches per game this year, pushing his total to around nine per game. Even with that small increase, 2020 Alexander Mattison is nothing more than a handcuff to Dalvin Cook owners.
Kirk Cousins – No Earlier Than Round 11
Kirk Cousins is a great quarterback. I stand by that. In terms of fantasy, he is not the greatest for two reasons: pass attempts and scrambling ability.
Last year, we saw a complete turnaround in how the offense was run. Instead of the aerial attack we saw in 2018, Kevin Stefanski and Gary Kubiak decided to put a much larger emphasis on running the ball. It was quite successful and the Vikings won 10 games + an NFC Wild Card game doing it.
But, team wins don't matter for fantasy owners (unless you are in a really weird league that counts them — which shouldn't exist). In 2019, Cousins threw 162 fewer passes than his first season in purple. Cousins doesn't provide much on the ground (186 yards and two touchdowns in his first two seasons as a Viking).
However, Cousins was a more efficient passer last year. His passer rating jumped from 99.7 to 107.4 and his interception rate dipped slightly from 1.7% to a career best 1.4%. All of the numbers in this paragraph are good, let's be real.
Cousins' lack of passing attempts, combined with not being asked able to run, doesn't mean he can't be a productive fantasy quarterback. His ADP is currently all over the place, depending on format. In half-PPR he is going in the eleventh round while in full-PPR, he is a fourteenth round pick. Cousins should not be viewed as anything more than a backup fantasy quarterback, who could be good in a pinch or on a bye week.
---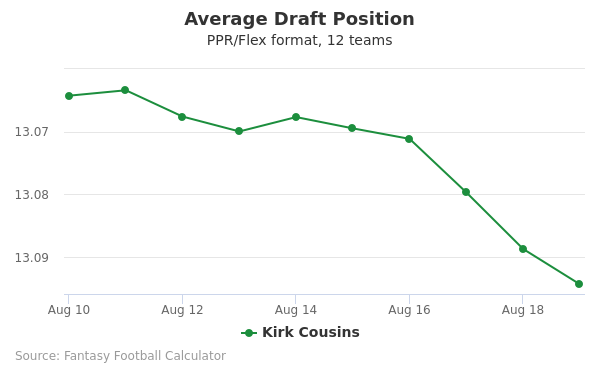 ADP from Fantasy Football Calculator
---
Justin Jefferson – 12th Round
Drafting rookie wide receivers can be risky. Remember Laquon Treadwell? That was a disaster. Treadwell caught just one pass his rookie season.
Barring some sort of freak injury, Justin Jefferson should be much better than that. The 2020 first round selection was a beast at LSU hauling in 1,540 receiving yards and 18 touchdowns.
Similar to Thielen, someone will have to take on the 94 targets from 2019, being left behind by the departure of Stefon Diggs. Jefferson is extremely talented and should see plenty of snaps.
The only real concern I have with JJ is the natural growing pains of being a rookie. Jefferson was already at a slight disadvantage, after being placed on the COVID list, before being taken off on August 4th. With no preseason games this year and shortened training camps, it may take a little longer than usual for rookies, like Jefferson, to adjust to the NFL.
The rookie out of LSU should be viewed as a bench receiver, with high upside. Last year, we saw rookie receivers such as Marquise Brown and A.J. Brown shine. Meanwhile, other rookies like N'Keal Harry struggled.
Irv Smith Jr. & Kyle Rudolph – Undraftable
This is crazy, right? How can Kyle Rudolph be undraftable?
The truth is, Rudy was not very good last year, from a fantasy standpoint. He did have six touchdowns, but only 367 yards to go with them. Rudolph is getting older and the emergence of Irv Smith Jr. could mean Rudolph's days as a solid fantasy tight end may be over. Fantasy Football Calculator doesn't even have an ADP for him. Nobody is drafting Kyle Rudolph in their fantasy draft and neither are you!
As for Irv Smith Jr., he is in a similar fantasy situation as Rudolph. They had similar stats but Smith had four fewer touchdowns. He is talented, but there are numerous other options I would rather have on my team. I would stay away from them both but if you are going to pick between the two, Smith is the better option, with hopes he takes over the #1 TE job for good, becoming a reliable #2 or #3 target for Kirk Cousins.
There you have it, fantasy football owners who happen to also be Minnesota Vikings fans! Best of luck in your drafts. If you take this advice, thank me later for winning your league's championship trophy! If my recommendations cost you a season, then it's your fault for trusting some guy on the internet.
Sam Sklar | Minnesota Sports Fan