Lindsay Whalen to Retire After WNBA Season and the Love is Pouring In
---
---
Well it's official:
Lindsay Whalen has announced she is retiring at the end of the 2018 season. Whalen, who was also named head women's basketball coach at the University of Minnesota in April, has been attempting to balance duties as a player and coach all season. It appears that the responsibility of doing both has finally become too much to bear:
Whalen will retire as one of the most decorated athletes not only in WNBA history:
but also the history of Minnesota athletes:
That tweet, by the way, is in response to a question of whether or not Whalen is on the Mount Rushmore of Minnesota sports:
The only thing that is ridiculous is this guy suggesting she isn't part of a Minnesota sports Mount Rushmore.
With the news reaction of Whalen's retirement poured in from around the WNBA:
But also from other Minnesota icons:
AND LEBRON JAMES???
The Lynx held a press conference earlier today to officially announce the news and Lynx coach/GM Cheryl Reeve reflected on Whalen's career:
Whalen is the perfect Minnesota story. She has won at every level, and single-handedly put the Gopher women's team on the map, back in her playing days. She also helped forge the Lynx into one of the most dominant teams in the WNBA. Winning is simply in her blood and she is now set up to bring that same winning mentality to the Gopher women's basketball team, as the head coach. The fact that Whalen was able to get through most of the season, doing both jobs, is a testament to her resolve and determination.
Cheers Lindsay for a hell of a playing career. Hopefully the Lynx can get her one more ring this year, although it looks like it will take a bit more than the runs in recent years. Regardless, I have a feeling her coaching career is going to be just as successful.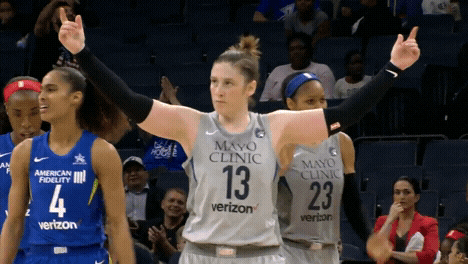 Seth Toupal @SethToups
Minnesota Sports Fan